Veni. Vidi. Vici. (I came. I saw. I conquered.)
This is a fun purple toga-themed event to celebrate Purple Day, a legally recognized awareness day in Canada. The name of the event was designed to create a powerful message of strength, tenacity and courage while dismantling and breaking down stigmas associated with epilepsy.
2019 – May 4th at Taps on Queen.
Start planning your purplest outfit! This year it's going to be bigger, better and more purple than ever! More details coming soon!
Announcement: BETA Level Sponsor
We are pleased to announce Kenmore Homes is the Beta Level Sponsor again this year!
Sponsors Needed
Would you like to garner more exposure for the products and services your business offers? We would love to invite you to consider becoming a sponsor for Veni Vidi Vici. There are varying levels with affordable options to choose from to suit every budget. Interested? Contact Kristin today.
Veni Vidi Vici_Sponsorship_2019_colour
2018 – March 23rd at Taps on Queen.
The date has been set and planning is underway!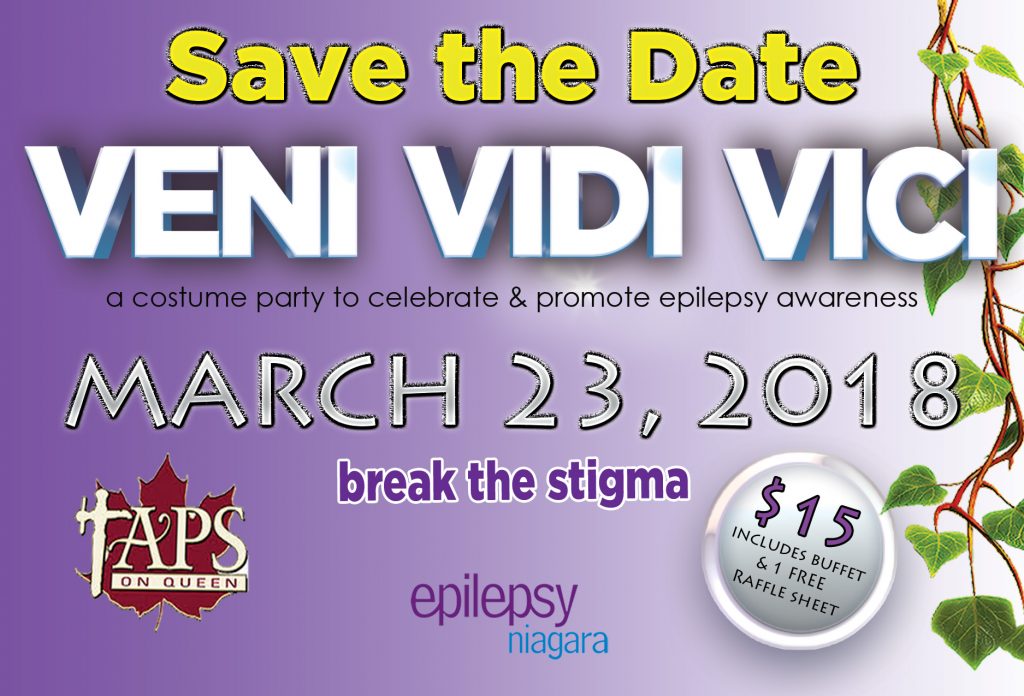 Ticket Pre-Sale on NOW
That's right – tickets are going to be available shortly! But you can get an early jump on this by registering now! By doing this, tickets will be sold for $10 (includes buffet and one free raffle sheet) – but this is only until February10th. Afterwards, the tickets will resume at regular price.
Get on the list! Contact us to reserve your pre-sale ticket today! To be eligible for this price reduction, payment must be received by February 10th.
The Nitty Gritty
The event will be held at Taps on Queen (4680 Queen Streeet, Niagara Falls, ON)
Doors open at 6:00pm
Ticket admission includes buffet and one free raffle sheet
It is not mandatory that you wear a togo, but it's fun and you'll be eligible to win prizes
Prize Pong will be back and better than ever! More prizes and surprises!
First performance is Cory Cruise and will begin at 7:30pm
There will be goody bags for attendees – first come first serve basis!
The donations and  sponsor pages will be updated weekly as changes or additions happen.
2017 – March 24th at Taps on Queen
We had such a great time! A very special thank you goes out to those who came out to support our organization, the incredible performers and to those who came out to Taps for a great time! We had an incredible raffle, with the prize of the night being a Classic Nintendo NES system! We had some fun games, with the hit of the night being 'Prize Pong',  awesome door prizes, and a purple toga contest.
Taps on Queen dedicated a drink of the night, Purple Rain, to celebrate epilepsy awareness
To Taps on Queen, thank you so much for hosting this event, your unconditional support and hard work! Eric Martin, thank you! This couldn't have been done without you and your hardworking staff!
To our sponsors: Primeau Dental, Eisai, Tina Mangiacasale, Cotton Inc., and Golden Horseshoe Marketing… We are so grateful for your support for our organization and for this event.
To our performers: Miss Ashlee, Cory Cruise, The KaC HimselF, Eklectik, and Battered Egos… Thank you! Thank you for performing and all of your support for our organization! Each and every one of you was integral to this success!
Click on an image to enlarge